Massage Therapy
Massage therapy is one of the oldest methods of healing, as the practice of therapeutic massage can be traced back nearly 4,000 years. Statistics from both Health Canada 1 and the American Massage Therapy Association 2 show that millions of North Americans use it today.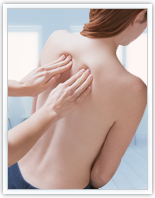 Massage therapy refers to a comprehensive health management strategy focusing on the application of various techniques to positively affect the soft tissues and joints of the body. Massage techniques most commonly include pressure and compression, kneading, frictioning, and mobilizing to improve the health and condition of the muscles, tendons, skin, fascia or connective tissue of the body.
Today massage is thought of as a holistic therapy that complements medical treatment. The "Physician's Guide to Therapeutic Massage" shows that massage can decrease pain, improve range of motion, improve mood, aid in the circulation of blood and lymph flow, reduce muscle and joint soreness, and improve sleep.
Your Treatment
(Source: College of Massage Therapists of Ontario)
Before a treatment, your Massage Therapist will propose a personalized treatment plan based on an initial assessment and health history. The assessment consists of various tests to determine the condition of your muscles and joints. Any personal and health information you provide to your Massage Therapist is completely confidential and will be safeguarded. Your health record cannot be released or transferred without your written consent.
Your Massage Therapist must also obtain your consent to work on any part of your body, regardless of whether you are fully clothed, or fully or partially covered with sheets or blankets. Your privacy will always be respected, and you may withdraw your consent for treatment at any time.
Various specialized movements of the hands, over the skin or clothes, make up the Massage Therapy treatment. The Massage Therapist will work with your level of pain tolerance during the treatment, and the treatment can be stopped at any time should the treatment become uncomfortable.
According to the College of Massage Therapists of Ontario and the Registered Massage Therapists' Association of Ontario, the health history interview, initial assessment, re-assessment and post massage care are conducted within your appointment time, and they are mandatory. Therefore, your massage time may vary depending on the length of time it takes to complete the tasks set by the Standards of Practice for the profession.
1 Health Canada (2003)Health Policy Research Bulletin. Retrieved May 10, 2005, from http://www.hc-sc.gc.ca/iacb-dgiac/arad-draa/english/rmdd/bulletin/mainstream.html#page6
2 American Massage Therapy Association. (2001). Massage Therapy Consumer Fact Sheet